Written by William Dibble, pictures and video courtesy of Speak Low If You Speak Love
Something can be said for music that is aggressive, visceral, and frenetic. Something can also be said for music that is reserved, soft-spoken, and gentle. Speak Low If You Speak Love is a beautiful combination of the musical themes of emo and electropop, combined into one soft, soothing band. Speak Low If You Speak Love is the solo project of Ryan Scott Graham of State Champs. Nearsighted is Speak Low's second studio album. After weeks of writing, recording, and producing, Nearsighted is ready for your enjoyment.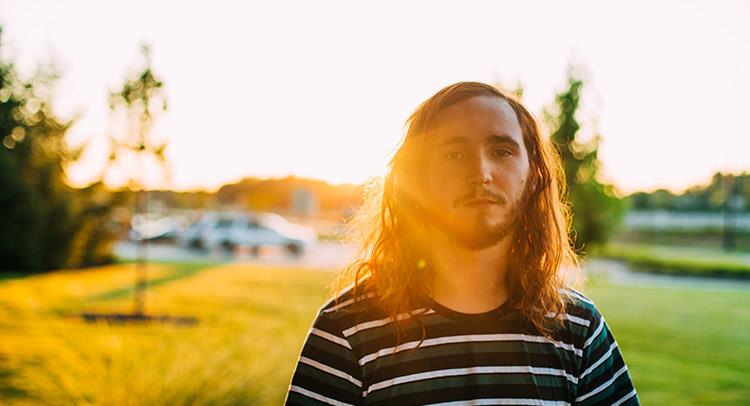 Nearsighted starts with the soft track, "Have I Changed". "Have I Changed" has rhythms and melodies reminiscent of both synth pop groups like early The Killers (Hot Fuss) and melodic emo groups like American Football. The emphasis on melody is apparent from the beginning. The rhythm is carried by the drums, while the instruments are soft, melodic, and almost ethereal. The real achievement, though, is that the vocals carry as much of the melody as the instruments. Removing them would change the the very texture of the song, as opposed to some groups where it simply results in a song without vocals. "Enough", the album's first single, was actually the last-written song. It is a bit heftier in sound than "Have I Changed", but does not lose the focus on melody. Soft synths, combined with syncopated vocals and clean guitars and a prominent bass line, draw us along in a song asking if enough is good enough. In this case, "Enough" is more than good enough.
The acoustic intro to "Contrasting Colors" provides, pun fully intended, a contrast to the synth-heavy introductions of the first two songs. For the most part, this song remains a soft acoustic piece with equally relaxing choral arrangements. Synths and electric guitars do make an appearance, but they are subdued and gentle as Graham sings "we may never be lovers". The song does increase in intensity, but only subtly, leading into the synthscapes of "Ever Yours" easily. Despite the lyric "It's not like I have anything to say", "Ever Yours" has plenty to say both lyrically and musically. Both of these songs call to mind Graham's earlier acoustic works, but also show his growth in the last two years since Speak Low's prior album, Everything But What You Need. The theme of electronica-combined-with-acoustic continues in "Your Love It Runs". The song explores the question of if the singer's actions were the reason for somebody's love running away. Ultimately, the song feels like it is about recognizing one's mistakes in a relationship, asking if you would do it differently, then deciding to do it all again anyway. Relationships tend to be a recurring theme in these songs, handled elegantly and in different fashions throughout Nearsighted.
"Safety Net" is more piano- and synth-centric than the previous songs. It also feels a bit more somber in tone, which matches the theme of safety nets explored in the lyrics. There is an interesting effect going on in some of the background melody where some of the synths sound almost like a second set of vocals. The idea of not building a someone a safety net if they plan to fall into it seems to fit thematically with "Hatsuyume". "Hatsuyume" features no repeated choruses ("Safety Net" repeats its chorus several times), but has repeating musical motifs throughout. For ference, Hatsuyume is a concept from Japanese culture where the first dream of the year can predict how the overall year will go for you. This is just a paraphrasing of a slightly more complex concept, though. And the song seems to be foretelling a year with trouble, as "she" kills herself in his dream, but there are also sirens in the real world. Appropriately, the song trails off with the synths, then acoustic guitar, ending only with Graham singing.
Track eight of Nearsighted is more electronically inspired than some of the previous songs. "Circle Spinning" is reminiscent of electropop bands like some Freezepop songs. It's the kind of light, moderate melody and tempo that has you wanting to sway along to the music with your eyes closed. "Cannot Have It All", on the other hand, is acoustic again. This electronic-acoustic-electronic pattern played throughout the album is fantastic, as it helps you differentiate themes and songs. It feels like songs with certain themes and musical concepts are grouped together, but then separated slightly. The switching back-and-forth, as done between "Circle Spinning", "Cannot Have It All", and the electronica-inspired "Mystery's Gone" serves to give the album a distinct texture and mood as it progresses. "Hold Me Now" begins to draw us back more towards the emo side of things. We mentioned American Football as a comparison point earlier. That becomes especially apt in this track, featuring soft repeated vocals singing alongside gentle horns with the repeated lyric "I drift asleep". Nearsighted closes out with the distinctly acoustic-emo song "Swell". If nothing else in this album reminds you of other bands in the emo genre, this one will. It brings to mind some of AF's early work, as well as Youth League. It is a beautiful song to end the album all.
Fans of electronic, indie, and emo music should rejoice. Nearsighted is a fantastic celebration of all three genres blended into one beautiful sound. Ryan Scott Graham has used Speak Low If You Speak Love to craft an album with distinct emotion, texture, and tone. It is the kind of beautiful music you can set to play, then lean back to relax to. No doubt the live performance of this album will be fantastic. Nearsighted released on 19th January, 2018, and is available from most music retailers as well as Speak Low If You Speak Love's website.