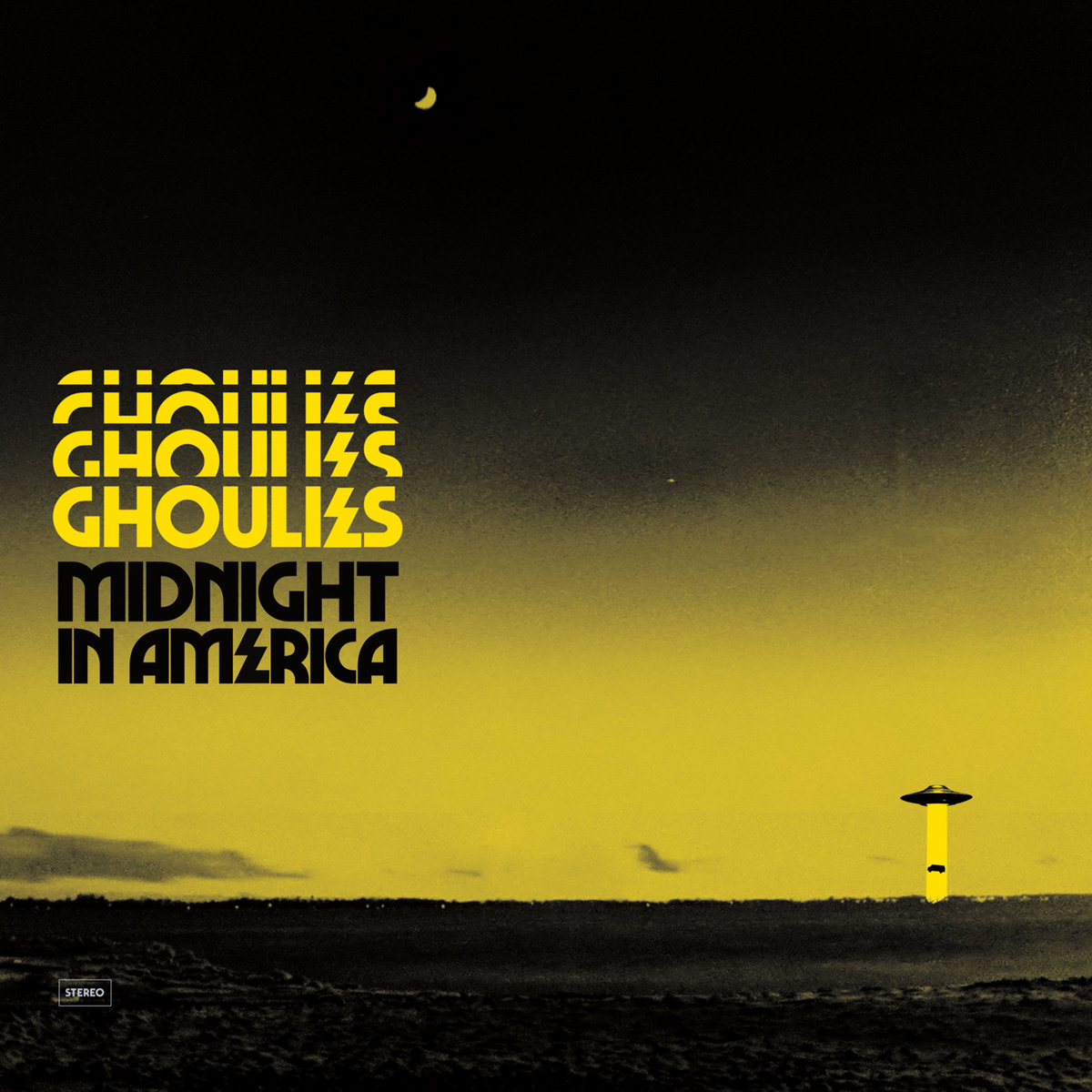 Review by Rose Estrada, photos provided courtesy of The Ghoulies
When one considers what makes a band work, a lot of people tend to underestimate the value of proper theming. Drowned under the voices yelling "it's all about the music," is a harsh reality that a lot of musicians experience way too late – that being that presentation and cohesion matter. Artists from Metallica, The Ramones, Arch Enemy, My Chemical Romance and more showcase an understanding that how the music is crafted and presented is paramount to success. Elements need to come together to form a unified tone and theme for the band and, while this theme can be changed album to album, without some bridging stability the whole thing falls apart.
It is clear that The Ghoulies understand that as well.
"Midnight in America" is the latest release from the Denver-based punk band and from the very first song, one can craft a clear image of the band without taking a single look at any pictures or promotional materials. That image is one of Halloween.
Every component of each song hosts a variety of strengths. The guitars riffs provided by Adam Moore and Jake Yergert, along with the further backing of Spencer Lovell on bass create very Ramones/Misfitsesque rhythms that are nothing short of hypnotizing. Added to that is Connor Randall's drumming, which regardless of tempo provides an energetic beat that is impossible not to dance or jump to. The soundscape is further enhanced by Dan Yergert on organ, who not only fills out the ambience with a distinctive creepy tone, but more often than not takes a leading spot on the songs as is the case in "Lust-Filled She-Demons of the Cold War". To top it all off, there are Adam Moore's vocals, an energetic delivery of melodies and shouts straight out of the 1970's/1980's punk scenes.
And yet, for as much as each band member shines in this album, the theming and production shine moreso. Every song, goes into the next without losing momentum. Every instrument and vocal, while clearly recorded using modern equipment, could have just as easily been recorded decades ago, as the production creates the feel of classic punk music. The organ certainly helps in that regard but more than that is the commitment to a sound and identity. This is a sci-fi/horror punk band album that must be listened to in one sitting and it is wonderful.
Lastly, this album is fun, something that often goes uncommented on when reviewing music. Every song has a catchy hook or chorus, from the shouts in "Black Cadillac" to the chorus in "Hot Rods." It would not be hard to picture crowds singing along at a concert or on karaoke night. The music is danceable, singable, and overall enjoyable.
The album comes out March 31st, with pre-orders already available. The single "Eat, Sleep, and Be Dead" is available to listen to at their bandcamp page as well as through their official lyric video.
TLDR; Midnight in America by the Ghoulies is a fun enjoyable throwback to sci/fi/horror punk that is as much fun to listen to as it is put together. Listen to it at your first opportunity. Read below for our interview with them!
FTSM: For the uninitiated, how would you describe The Ghoulies and what can new fans expect from a live performance?
Dan: We try to create the kind of music that we want to listen to. We all grew up listening to punk music and some more traditional rock and roll- we've all always been huge Green Day fans and such. So when we started playing together, that's the kind of stuff we were writing. But as time went on, we discovered the Chess Records catalog and 60s garage and 90s garage revival that inflected a lot of our writing. There's a quote from a book called We Never Learn by the New Bomb Turks singer about bands in the late 80s that were "more concerned with ass-shakin' than moshing" and how they drew from early rock and roll and hillbilly as much as the big 70s punk acts, and we think that description works for us too.
For our live show, we try to get people moving and we really like to go nuts on stage. We don't really play any downbeat songs and we play a lot of covers just because we like to. We also try to play short sets!
FTSM: In the songs you sent us to review, there was a song labeled "Lonely" which does not appear under that name in the tracklist of the album and it stands out as a huge departure from the rest of the songs both in it's Johnny Cashesque construction and it's dirty and raw production. I was wondering if you could talk about it? Inspiration, vision for the song, why was it written/mixed that way, etc…
Jake: That's a hidden track. At the end of college, Dan (our organist who played bass at the time) moved to Florida. This was tough for me as his twin. We don't often write songs with a lot of personal moments, so this one is the black sheep on the album. I wrote this song in my last college apartment in the weeks before Dan moved and we've been sitting on it since the end of 2013. That Johnny Cash American Recordings album feel is exactly where we were aiming. "Lonely" is the last song we recorded and did it in just a handful of takes.
FTSM: What is the obscure Americana that your album is reportedly inspired by and how do The Ghoulies fit into that category?
Dan: We love going on the road and seeing all kinds of weird things in roadside attractions and such. We're all into the paranormal and stories of American urban legends. We visited Roswell, New Mexico a few years ago and named our second album after the place. When we sat down to think about what we'd title the album (we had a lot of working titles), we tried to boil down what the songs were about. We came up with pretty much three groups of things: touring and highways, UFOs and ghost stories, and some of our anxieties and worries.
FTSM: What can you tell us about Elvis Christ? (Described on their bandcamp as "the saviour of our souls" and the title of a song in their previous album.)
Jake: Elvis Christ is our lord and savior. But seriously, we're huge Elvis fans, and we even considered calling this record "'68 Comeback Special" as a callback to his last great album. I think that started as a reference to a Cramps song, but became something else entirely. I don't think a lot of people have really listened to Elvis' stuff outside of his #1's, but he's way more than "Blue Suede Shoes" and "Jailhouse Rock." His Sun Records stuff is great, then his soundtrack albums are terrible, and then you see him just barely touch his best stuff again in 1968 and 1969 before he really goes off his rocker and heads toward his death. It's a pretty great but tragic story.
FTSM: Would you consider yourselves amongst the last holdouts of the late 70's/80's punk movement? Amongst the first wave of a new resurgence of American punk with a retro feel? Or something else entirely?
Jake: We didn't know for a long time that we were trying to get to that Didjits/Cynics/Mummies sound, but that's where we landed. I think we idolize the same things they did– '60s garage greats, backwoods rockabilly pickers, and really trash exploitation movies. If that style came back in a big way I think we would be happy as can be, it would be nice to be counted among them.
FTSM: In this album you did not have a single song hit the 3 minute mark, which was not the case in your last three releases (counting the live album). Was this a conscious choice you undertook or did that just happen naturally?
Jake: This is the first record where we had a producer. Ryan Perras at District was extremely helpful at cutting out the crap that doesn't count. "Lust-Filled She-Demons of the Cold War" started out over 5 minutes long, and he helped us cut it down. We try to avoid the mid-tempo death knell for songs, but most of it comes down to Ryan saying "This part doesn't add anything," and trimming things down. We didn't go in to write a short record, but this is by far the shortest we've released.
Dan: It helps that we went into this record knowing what we wanted to do a lot more than we ever had. It was a much more focused record, which meant there weren't many diversions or experiments.
FTSM: What's the strangest thing you've witnessed while on the road?
Dan: One time, in Norman, Oklahoma, we played an absolutely awful show at a DIY space in a warehouse. There was one guy there who was tripping absolute balls for the whole show. He was this really tall guy so we called him "Lurch" all night. He carried a rock around in his pocket, wrapped in a hankerchief. He would periodically take the rock out, stroke it with his finger, and whisper to it. Eventually, he started stabbing a mattress in the alleyway with a knife and rolling around the show floor until he was kicked out of the place by the promoter. We saw him score more drugs in the alley later.
FTSM: Are you already planning your next album or are you going to enjoy playing these songs for a while before worrying about what comes next?
Jake: We're planning on a least one EP, if not several somewhat soon. We want to avoid having three years between our next release. Expect at least one Elvis cover.
Dan: We are always kind of scheming about what's going to come next, so we'll ride these songs for a while, but we're pretty much always thinking about the future.
FTSM: If you had a late night AM radio show, what would you fill the time with?
Dan: I'm pretty sure we'd just make it a total copy of Coast-to-Coast AM, which is what one of our songs is about on this new record. Coast-to-Coast is absolutely bananas. They have really weird people and folks who claim to have been abducted by aliens and all kinds of conspiracy theorists on it. I'm sure we'd do something like that.
FTSM: What advice would you have for other bands starting out in their own local scenes and what do you think are the most important things we can all do to keep live music thriving?
Dan: When it comes to informing your music and style, more is more. Go see as many shows as you can, listen to as many records as you can, and talk to as many people as you can. Also, if it takes you a few years to figure things out, that's okay. When we started, we were basically a Green Day cover band, then we experimented with ska for what feels like 20 minutes looking back on it. Now we're here. So go easy on yourself.
As for keeping live music thriving, you just have to go to the shows and support the people. I think it's a better experience. Seeing really good bands in local music has kind of spoiled us; it sucks to sit a half-mile away from Black Sabbath when you're used to seeing your favorite bands about three feet away from you.
FTSM: Any other words of wisdom to share or anything that you would like fans to know?
Jake: Be an organ, eye, and tissue donor. Our drummer's life have been saved twice by generous heart donors. Check the little box at the DMV– you never know who's life you might save.
Also, read a book.